EC-Council (International Council of E-Commerce Consultants) is world's largest certification body for Information Security professionals. EC-Council is a member- based organization that certifies individuals in various information security and e-business skills.
CCISO
EC-Council's CCISO Program has certified leading information security professionals around the world. A core group of high-level information security executives, the CCISO Advisory Board, contributed by forming the foundation of the program and outlining the content that would be covered by the exam, body of knowledge, and training
25+ Hours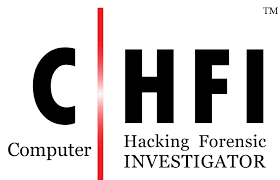 CHFI
EC-Council's Computer Hacking Forensic Investigator (CHFI) is the only comprehensive ANSI accredited, lab-focused program in the market that gives organizations vendor-neutral training in digital forensics. CHFI provides its attendees with a firm grasp of digital forensics, presenting a detailed and methodological approach to digital forensics and evidence analysis that also pivots around Dark Web, IoT, and Cloud Forensics.
50+ Hours
Certified Ethical Hackers are hired by organization's either on contract or as full-time employees to help improve the organizations security posture. C|EH is a required baseline certification for many different job roles, but the function of ethical hacking itself involves a methodical practice of identifying, evaluating, testing, and reporting on vulnerabilities in an organization.
40+ Hours
EC-Council's vendor-neutral network security certification provide an unbiased approach to learning secure networking practices, as well as how to analyze and harden computing systems prevalent in the current IT infrastructure.
45+ Hours